Hub City Chess
Supporting chess in Belen, New Mexico!
Tournament Agenda
A listing of our Tournaments.
November 16th 2019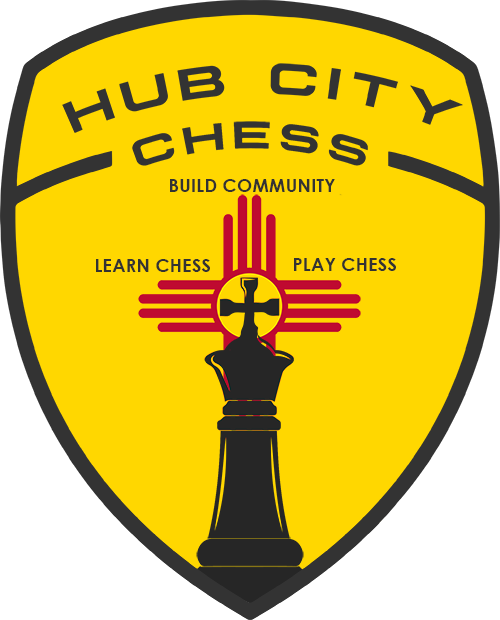 Belen Battle I / November 16th
Doors Open: 9:30AM – 3:00PM – Belen Public Library Google Maps
Prizes: 100% Payouts 1st, 2nd, 3rd in both sections
Seats: 48 open seats with possible $240 in pay outs per section
Sections: Open & U1400
Entry Fees: $10.00
Time Control: g/15 – Quick Time Controls
Refunds: None
Byes: None
Registration: https://www.hubcitychess.org/product/tournament/
Devices: No cell phones allowed in playing area
Notation: Not required, may use electronic notation devices certified by US Chess: ChessNoter, eNotate, Plycounter, Monroi
Extra Room: After your game is completed there is a skittles room available
Round times: 10am, 10:40am, 11:20-12:20 Lunch, 12:30pm, 1:10pm, 1:40pm
Winners Circle: 2:20pm
Clean Up: 2:30PM assistance with putting away chairs and tables
Equipment: Bring your own sets and clocks as none will be provided except for top boards who will be using a DGT wooden eboard board and DGT 3000 clock.
Registered Players
| Player | Rating | Section | USCF ID |
| --- | --- | --- | --- |
| ANDREW TROY | 100 | U1400 | 17079203 |
| DANIEL JOHNNY WILLIAMS | (Unrated) | U1400 | 17155858 |
| PETER A LUPSHA | 505 | U1400 | 12661218 |
| MICHAEL CRAWFORD | (Unrated) | U1400 | 17182597 |
| WILLIAM CRAWFORD | (Unrated) | U1400 | 17182582 |
| ROMEO C ALONZO | (Unrated) | U1400 | 12404499 |